About JumpStart & Startup Scaleup
JumpStart is a nonprofit organization based in Cleveland, Ohio made up of diverse entrepreneurs, investors and business experts who believe entrepreneurs can transform lives and communities through innovation.
Their annual event Startup Scaleup, also known as SUSU, celebrates the growth of Northeast Ohio's entrepreneurial ecosystem and showcases the array of local resources and connections available to help entrepreneurs succeed while supplying them with new skills and knowledge to further their entrepreneurial endeavors.
This year's festival-style SUSU was held in Cleveland's Flats East Bank neighborhood. The neighborhood played host to more than 50 workshops, panels, sessions and networking events across 13 different venues.
How TBEIC Took Part in SUSU 2019
Not only is TBEIC one of JumpStart's partner organizations, but we also sent three team members to SUSU 2019: our marketing intern, myself; our CTO, Bill Whittenberger; and our CEO & President, Rick Stockburger.
I spent my day attending sessions and taking photos of the TBEIC team in action. I found the Digital Marketing in the Morning session led by Cleveland's Zangardi Studio to be the highlight of my day. Patrick Zangardi of Zangardi Studio discussed the importance of determining the perfect balance between traditional and digital marketing for your business and how to balance different digital marketing platforms based on target customers.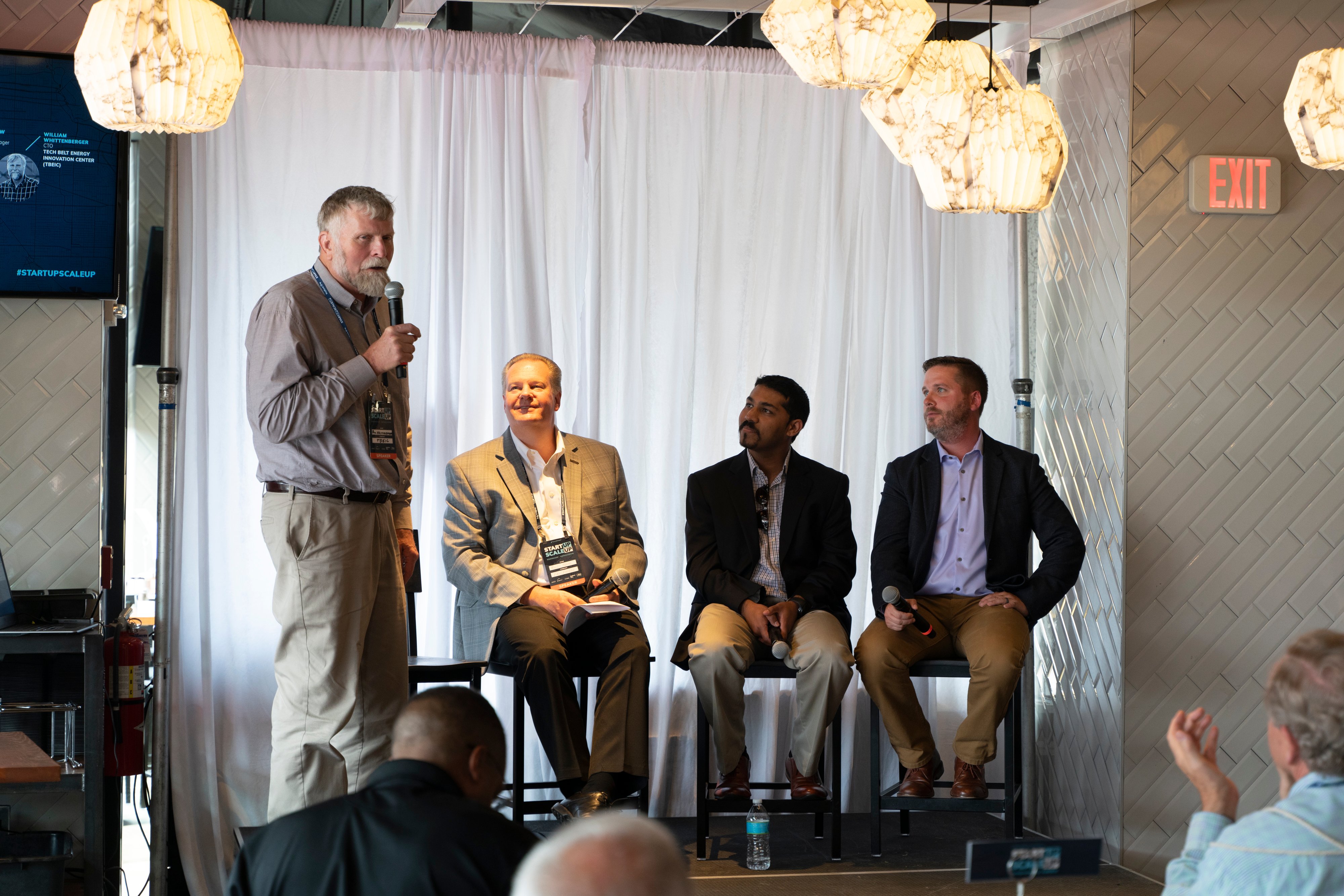 In the afternoon, Bill moderated The Future of Energy, a panel on massive changes coming to the energy landscape in the near future consisting of energy executives , Randall Frame (the Regional President of Ohio Edison), Subin Mathew (Innovation and Technology Manager for American Electric Power) and Nick Pero (Innovation Accelerator at Dominion Energy) (left to right).
Rick wrapped up the team's day by leading Tesla Talks, a discussion with the Midwest Business Development Manager of Tesla, Tiara Thurston. The talk covered a broad array of aspects of present-day energy innovation and Tesla's role in innovation, from electric vehicles to solar panels.
The Entrepreneurial Magic of SUSU in Action
Aside from the various workshops, panels and events offered throughout Startup Scaleup 2019, another priceless resource was made available to everyone present for the day: the ability to network and expand your connections.
No one knows this better than Dave Martin, President and CEO of Intwine Connect, a TBEIC portfolio company. Dave had the opportunity to network and talk about his company's innovative product with energy executives Subin Mathew and Nick Pero prior to The Future of Energy panel. Ahead of Intwine Connect's upcoming product launch, this was an important moment Dave seized to let key players in his industry know about the hard work he's committed to developing an innovative product. It's the ability to create and encourage moments like these that are at the heart of what Startup Scaleup is about: empowering entrepreneurs.