TBEIC can help you test PV inverters and other AC power and frequency products with its regenerative grid simulator located in the Energy Integration Lab.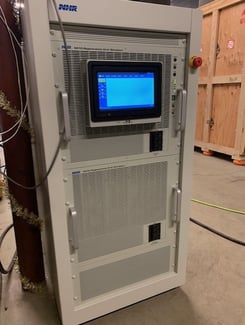 So, what's all the hype about? Why are startups along with small and large companies interesting in the NH Research 9410 Regenerative Grid Simulator? We're glad you asked.
This machine will help companies of all scales validate their product with peace of mind. Newly released advanced output control features, improved manual control interface, and comprehensive drivers are among the most popular tweaks to the new model. The 9410 can simulate several abnormal AC-grad conditions including: sags and swells, full cycles, sub-cycles, multi-cycle disturbances, and voltage harmonics. Three programmable channels that allow for any combination of DC as well as 1, 2, and 3 phase AC outputs make it perfect for level 1 and level 2 EV chargers, V2G, UPS testing, grid-tied inverter testing, and EVSE systems. The modular design allows for power increase in 12kW increments to simplify compliance testing such as IEEE 1547, UL 1734, CA Rule-21, and LVRT through elite integration and programming adaptability. While the machine is in the regenerative (sink) mode it will send return power back to facility mains rather than being dissipated as heat. NH Research hit the nail on the head with their 4-quadrant, regenerative, rack-mountable grid simulator.