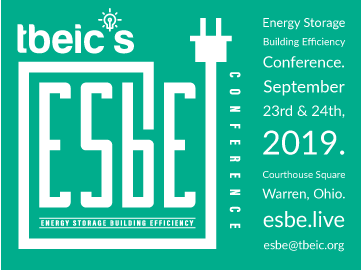 I'm very fortunate that I get to go to a lot of conferences around the country, but the chief complaint I always hear is being stuck in a hotel and not getting an  opportunity to experience the city. The Energy Storage Building Efficiency Conference could be held in a hotel but we wanted you to have some adventure and show off a city that you might have never thought of coming to before. We believe  that place is important. We've had companies relocate to Warren from across the country because the value the city offered them, not just our incubator.
Our conference is going to be held on Courthouse Square in Downtown Warren, our breakouts will be at cool local venues and you will get to walk, navigate, and adventure through our cool little city. We're inviting you to learn and be a part of and share our city for two days and we believe this will make the conversations, and the connections even more powerful.
Also, if that wasn't cool enough, the closing reception will be at the National Packard Museum, so you'll close out your experience listening to gangster era jazz music surrounded by one of the most innovative cars to ever hit the market. The first Packard rolled off the line in Warren, Ohio in 1899. Innovation isn't just about the people you surround yourself with, it's about the inspiration a place can have on the experience.
If you're a startup in the energy sector, you must be here. Did you want to meet first customers like AEP, Dominion, First Energy, Rockwell and Others? Join us. I promise your company will be better for it.
Manufacturer's send your plant managers and Chief Technology Officers. Do you want to learn about cutting edge technology that can lower your bottom line significantly, and make your buildings run cheaper and more efficiently? This conference will give you more than something to think about it, it'll give you the connections to act on those projects you've been dreaming about.
Investor's, do you want to learn about Opportunity Zone investing? We have John Lettieri from the Economic Innovation Group, the guy who partnered with Sean Parker of Facebook fame, here to tell you how to make good deals better and how to invest in companies and projects in places that your money can not only earn a return for you, but make a real impact in communities you care about. Beyond that, meet a plethora of investable startups and learn what they are doing to get your attention. Listen to early stage investors on how they make decisions, and what opportunities are out there. We consistently talk about how important it is to get our companies more access to capital, we need to talk more about how important it is for you to make sound investments into companies and projects that have a real impact. We're excited to have you.