The Academic Partnership Engagement Experiment, also known as APEX, is a Department of the Air Force (DAF) partnership intermediary managed by the 501(c)(3) non-profit Parallax Advanced Research. The program is dedicated to connecting universities, businesses, and the government to collaboratively innovate the next generation of science and technology that advances U.S. national security. APEX is funded by the DAF, which allows APEX to provide select services free of charge to academics, entrepreneurs, and innovators nationwide.
Why academic and industry relationships are more valuable than ever
In April 2019, the Department of the Air Force launched its Science and Technology 2030 Strategy that lays a path forward for adopting and delivering national security capabilities at the speed of relevance and necessity. As a result, the Department of the Air Force invested in programs to assist small businesses, innovators, entrepreneurs, academics, and anyone with a useful idea by applying for the Department of the Air Force Small Business Innovation Research (SBIR) and Technology Transfer (STTR) awards.
APEX is one of those programs.
Now, more than ever, there is a thriving "innovation to impact" pipeline facilitated by the Department of the Air Force that is funding innovations coming out of the private and public sectors, supporting innovations through commercialization, and providing small businesses and academics with connections within the DAF for continued collaboration.
Working with the Department of the Air Force for technology development and implementation can provide important non-dilutive capital to technology entrepreneurial companies, helping them through the proverbial "valley of death."
APEX helps industry and academia understand the opportunities provided by and how to navigate the DAF SBIR/STTR process. The APEX Discovery & Engagement team targets entrepreneurs and researchers who have the technology background and capabilities to apply for an SBIR/STTR award but might not be familiar with the program and processes. APEX offers program training through webinar events and massive open online courses (MOOC) with certification in proposal writing, pitching, eligibility, and funding considerations.
The APEX MOOC is a web-based course with multiple video modules available to anyone. The MOOC content covers:
Department of the Air Force Small Business Innovation Research (SBIR) and Small Business Technology Transfer (STTR) programs
Proposal writing
Pitching
Traditional and open topics
Eligibility
Website navigation, including assistance with navigating the proposal process, one-to-many briefings on proposal pain points, access to expert APEX consultants, and team matchmaking to create necessary or stronger partnerships
Additionally, the APEX Process Navigation Team provides pre- and post-award navigation services to academic and small business entrepreneurs nationwide. Services include 1-1 consulting support and matchmaking connections with the university, small businesses, and other partners. Since APEX is funded by the DAF, these services are offered at no cost to the entrepreneurial teams and are designed to improve the volume and quality of DAF SBIR/STTR proposals.
The goal is to increase the number of successful proposal submissions to the DAF and help innovators win non-dilutive funding to produce technologies that advance the warfighter. Since APEX is funded by the DAF, these services are free of charge.
Why sharing your innovative idea with the Air Force is easier than ever
Connecting with potential users within the DAF is crucial for entrepreneurs hoping to attract DAF SBIR/STTR funding for their technology or idea. In 2020, the Department of the Air Force created its first online idea submission portal called "Air Force and Space Force Tech Connect." It's a website that provides access to current opportunities, meet-up events, other DAF science and technology enterprise connectors, and a way for anyone to share an idea. The Tech Connect team, comprised of Air Force Research Laboratory personnel, connects relevant ideas/technologies with DAF subject matter experts, reviews the ideas/inquiries, provides feedback on submitted ideas, and establishes a dialogue with potentially interested Air Force and Space Force programs. The APEX program can help academic and industry innovators submit their ideas through this tool.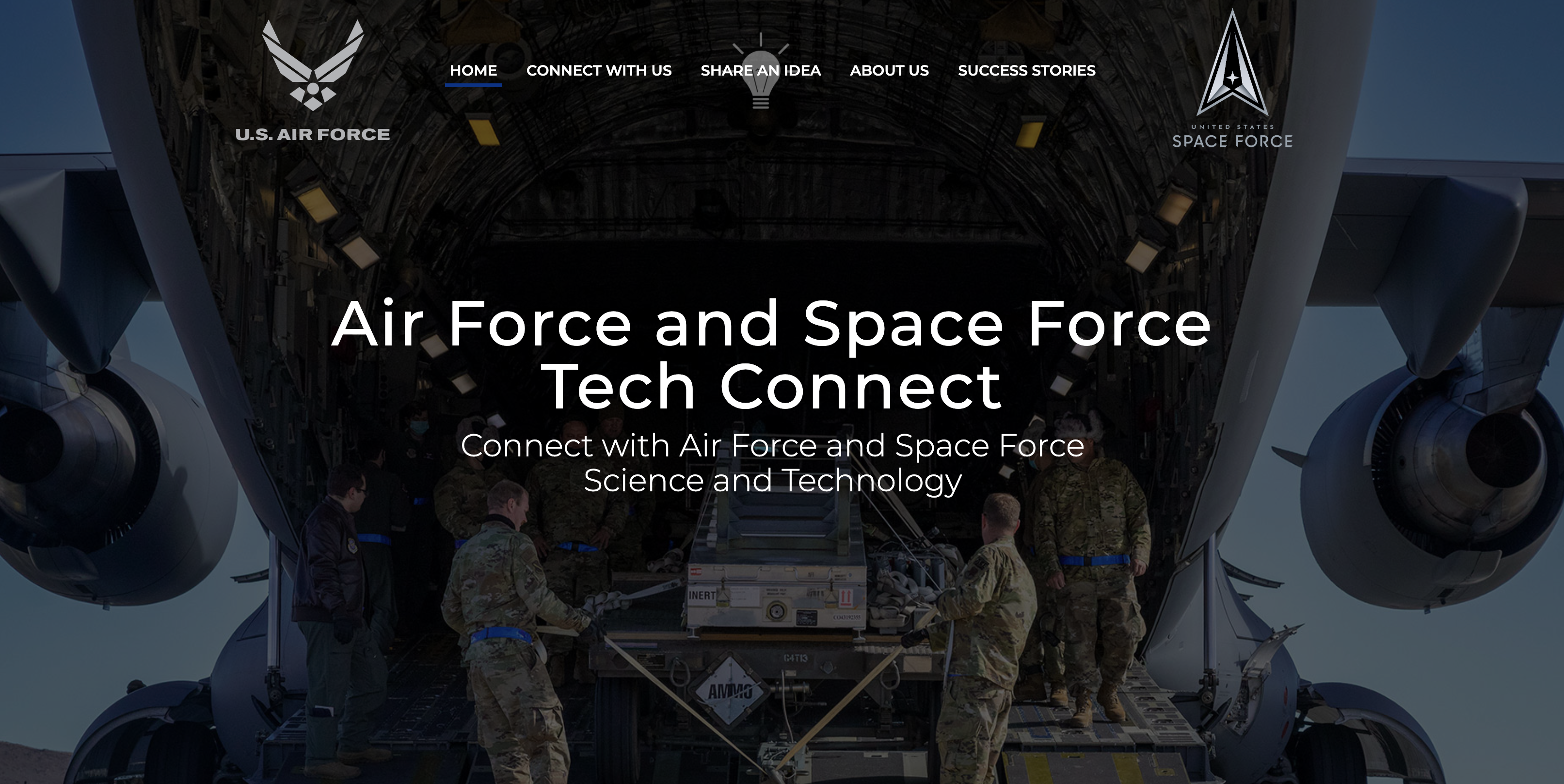 APEX business and academia client success stories
The DAF is looking for all ideas for everyday operations, which means that innovative ideas don't have to be specific to warfare and still have the potential to be funded by the DAF.
An example of this is the Morgantown, West Virginia-based company IconicAir, which in October 2019 won an AFWERX STTR $700,000 Phase II contract for their SaaS platform that maps and analyzes emissions data in one software solution. APEX provided STTR process navigation and consulting to IconicAir throughout their Phase I proposal and Phase II application processes. APEX services helped the startup achieve selection in this highly competitive awards-based program that enables small businesses to explore technology potential within the Department of Defense. Read their story here: APEX program helps IconicAir win an AFWERX STTR $700,000 Phase II Award (apex-innovates.org)
Or the Delaware, Ohio-based necoTech, which won an AFWERX Small Business Technology Transfer (STTR) $500,000 Phase II contract in September 2020 for their advanced asphalt repair technology to enhance Department of Defense (DoD) infrastructure uptime, response and durability. APEX provided STTR consulting to necoTech, helping the start-up get selected for the highly competitive awards-based program. necoTech is a start-up with origins in the necoPlastics brand. necoPlastics was part of Founder and CEO Steve Flaherty's entrepreneurial MBA project that sought to reduce plastic waste around the world by utilizing a plastic aggregate product in road repairs in the industrial infrastructure sector. The initial necoPlastics product was a Synthetic Lightweight Aggregate (SLA) – an asphalt aggregate made with recycled plastic. Later, SLA was transitioned to a recycled plastic resin. After necoTech was incorporated in 2019, the company focused on asphalt and concrete aggregates. Read their success story here.
Read the article by Apex Innovates here.