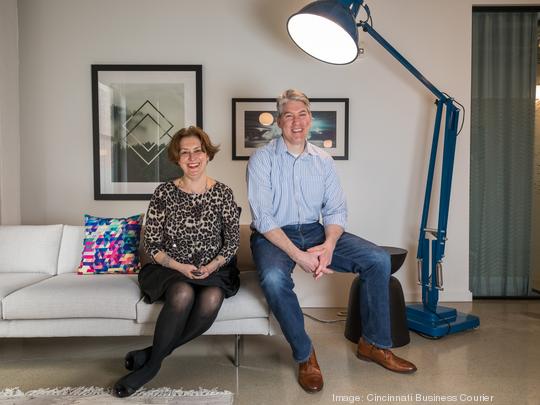 Irina Filippova, left, and Kevin Kushman are the duo behind Electrada, the Cincinnati startup aiming to boost the accessibility and reliability of electric vehicle charging stations.
---
Cincinnati-based startup Electrada is expanding its footprint across the Ohio River with plans to install up to 30 EV charging stations on the campus of Northern Kentucky University.
The company said two dual-port charging stations are already operating in Lot F near the university's new residence hall in the Boothe Residential Village. A third dual-port station is located in Lot C, near Founders Hall, Griffin Hall and the Herrmann Natural Science Center.
Planning is underway to install up to 30 EV charging stations across NKU's parking lots and garages, the university said in a release.
Electrada will own, operate and maintain the EV charging equipment installed. NKU's agreement with Electrada is for a five-year period with a five-year renewal option. It marks the company's first university partnership, the company confirmed.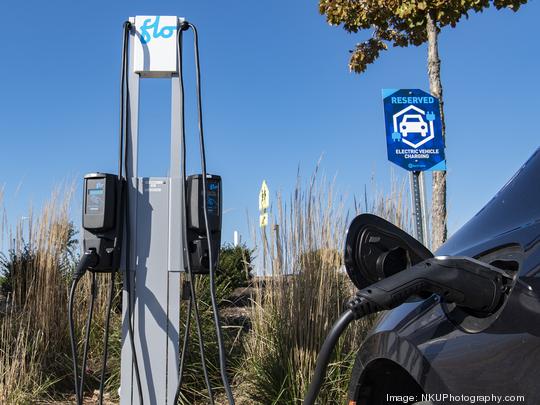 Planning is underway to install up to 30 Electrada EV charging stations across NKU's parking lots and garages.Scott Beseler
NKU, the region's third-largest largest university with around 16,000 students enrolled, said the effort will help it meet its campus sustainability goals. NKU was the first organization in Kentucky to join the Cincinnati 2030 District, an international collective of cities developing a new model for urban sustainability.
"These charging stations are another step in making NKU a more sustainable campus," Tiffany Budd, NKU's sustainability operations coordinator, said in a release. "With electric vehicles becoming more mainstream, this will allow us to adapt our campus infrastructure to meet a growing need and help us in becoming more environmentally friendly by supporting the use of electric vehicles."
Electrada, founded in 2020, owns and operates EV charging stations in several high-profile locations around Cincinnati, including Findlay Market and the Cincinnati Zoo. The company partners with Flo, a leading North American charging network for electric vehicles.
The company currently has more than 160 installations and is on track to install more than 350 stations by the end of 2021. Kevin Kushman, Electrada CEO, previously told Cincy Inno, the company's expects those counts to hit 5,000 in its first five years in business.
"The electric vehicle market is growing rapidly, but we know it can only grow as quickly as the charging infrastructure network that grows along with it," Kushman said.
Read the full story HERE.